History of Klonopin
Known clinically as Clonazepam, Klonopin is a benzodiazepine patented in 1964 by the Hoffman La Roche company following the success of  benzodiazepines within the medical community. Before the discovery of benzodiazepines, barbiturates were commonly used to treat anxiety, sleep disorders and seizures; however, they carried a high potential for addiction and for accidental overdose. Considered a safe alternative, Klonopin became the primary drug for use in treating epilepsy by 1975. It was soon realized that this "safe alternative" posed as much risk as a common barbiturate. According to a study conducted by the University of Minnesota, Dependence occurs in one-third of people who take Klonopin for longer than four weeks. These findings, however, have not slowed usage in the United States.  In 2017, Klonopin was the 34th most commonly prescribed medication in the United States, with over 20 million prescriptions written in one year.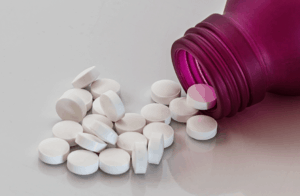 The Klonopin  High
Klonopin is typically taken orally but can also be snorted or injected (rare). Klonopin does not generate a high if taken as directed; However, if abused or unprescribed, Klonopin produces a high in which the user experiences: 
Fatigue 
Sense of calm
Blurred Vision
Lack of coordination
Confusion
Mood Swings 
Muscle weakness 
Low blood pressure
Side Effects of Prolonged Klonopin Use
Long-term, unprescribed Klonopin abuse can cause lasting effects and irreversible damage. Such side effects include:
Memory loss
Seizures 
Insomnia 
Birth Defects 
Increased risk of Alzheimer's Disease 
Hallucinations
Klonopin Use in the United States 
According to the National Institute on Drug Abuse, between 1996 and 2013, the number of adults who filled a benzodiazepine prescription increased by 67%, from 8.1 million to 13.5 million.  In 2015, 23 percent of people who died of an opioid overdose also tested positive for benzodiazepines.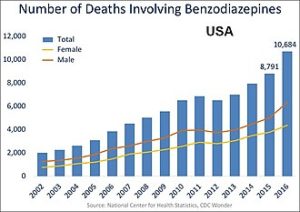 Klonopin Addiction Treatment
Klonopin is highly addictive and life-threatening when abused; therefore, it is extremely important to seek help immediately if you or a loved one is struggling with this addiction.   At Asheville Recovery Center, treatment specialists utilize a 12-step program and practice holistic rehabilitation. 
Services at the center include:
 Partial Hospitalization Program – At Asheville Recovery Center we offer a partial hospitalization program for clients who need post-residential treatment as well as for clients who need primary treatment but are unable to enroll in inpatient programs. Our PHP track offers a variety of therapeutic services and benefits to individuals in early recovery from substance addiction. Our day program is full-time, offering all of the clinical hours provided in residential treatment (from 9 am to 5 pm) with the benefit of allowing clients to return home to a structured sober living environment at night. This gives individuals the opportunity to build a community of peers and practice life skills, such as cooking, cleaning, and self-care, while still participating in immersive and intensive clinical addiction and trauma treatment.
Outpatient Rehabilitation – During intensive outpatient treatment, clients live at home or in a sober living residence which can help keep them accountable for their recovery commitment. Our staff coordinates with local, reputable sober living homes to ensure that our clients are living in a safe place and that their needs are being met, even when they are not at clinical sessions. During this time, clients are also encouraged to become involved in local twelve-step fellowships, to find sponsors, and to begin working the steps of recovery through participation in these groups. IOP is a place where clients can process their experiences in twelve-step fellowships and support one another in those individual journeys.
Addiction is difficult to overcome alone. If you feel that you or a loved one is struggling with Klonopin abuse, our specialists are on standby and ready to help. Call (828)383-0784 and speak with an addiction expert today.