The decision to seek an alcohol addiction treatment services isn't always an easy one to come to, but an addict should be commended for making this difficult decision. It may seem to be an obvious choice for those around the addict, but only you know that just taking the time to investigate alcohol rehab isn't always easy. When an alcoholic took that first drink, most did not imagine that one day they may not be able to manage just one beer or just one cocktail.  Never did they imagine that one or two drinks would eventually evolve into an uncontrollable, obsessive-compulsive behavior.
If you are questioning whether or not someone is addicted, we can help.  We'll ask a series of questions that may include:
How many drinks does this person have on a typical day?
How often are six or more drinks consumed on one occasion?
Does this person express regret or feel bad about drinking?
If you don't know already, those answers will help determine if exploring alcohol addiction treatment options is a priority. No matter what your answers are, this doesn't mean a potential addict is weak, and they will not be judged.  We know first hand that alcohol addiction isn't about being weak; it is about a genuine problem that needs more than just willpower to be controlled.
Alcohol addicts are far from alone in the struggles with alcoholism.  Alcohol has been named the most commonly used addictive substance in the United States, and because of that, many people struggle with an addiction or a dependency that can't be controlled.
Alcoholism can affect anyone you can imagine: mothers, fathers, brothers, sisters, husbands, wives, children.  Teachers, lawyers, doctors, construction workers, managers, athletes can be affected by alcoholism. No one type of person is immune to the possibility of alcohol abuse.  Alcoholism is nothing to be ashamed of – as a matter of fact, reaching out for help is a sign of strength.  It is not easy for someone to tackle and conquer the tough challenge of beginning the journey of recovery.  We have a team of dedicated, professional addiction treatment providers who guide and support our clients through the rehabilitation process, so the days of waiting for that next drink are long gone.
How Alcohol Addiction Works
We all know: alcohol is not hard to find. You can get it anywhere: in restaurants, convenience stores, grocery stores, or events. There is no challenge to getting a drink anywhere, anytime. Often one of the hardest parts of dealing with alcohol addiction is that alcohol use is incorporated into much of the daily routine with many options for accessibility.
Those friends and family that witness alcohol addiction just cannot relate. While family and friends have likely become painfully aware of what alcohol abuse is, they don't know exactly how it feels when an alcoholic takes a drink or how the alcoholic feels when they don't take the drink.
Alcohol addiction isn't just a desire for a drink, and it doesn't stop at the end of the week, happy hour, or a Saturday night out with friends.  Alcohol addiction is much deeper than that, affecting the very core of the brain and how it processes the effects of alcohol.
It is the receptors of the brain that say, "It is time to stop. That is enough for the night."  But that isn't how things work for alcoholics. Not only do those receptors not send a message to stop, but they send the message that it is okay to keep going and to have another, another, and yet another drink.
Alcohol addiction begins with dependence. There is a tolerance build-up to alcohol that happens over time, and soon, the addict feels that they need a drink – or several drinks – to feel normal.  From there, the dependence typically doesn't go away but instead gets stronger until it reaches the next level of addiction.  The tolerance grows, and more alcohol is needed to meet the desired feeling.
Some alcoholics can hide addiction for a while.  The family doesn't initially notice the regular excessive intake, but eventually, someone takes notice.  The comments begin, either subtly or very direct, and because you know you have a problem (and so do they), you're uncomfortable having even just one drink in front of loved ones.  Eventually, the addict might stop attending family functions or spending time with friends.  The alcoholic might justify the lack of socialization, but deep down they typically know the truth: That they are an alcohol addict and they need help.
It is also possible that the alcoholic thinks everything is okay and that things are just fine. The disease of addiction is sometimes referred to as possessing a "built-in forgetter," meaning that the alcoholic forgets the bad events that occurred because of the disease and may even relish in the warm feelings of when things were still actually good.
And so here we are.  The search has now begun for the best alcohol addiction treatment center to fit the needs of the addict.
Finding the Right Place for Treatment
The many stories of alcoholism may not match perfectly with the one above.  It may not even be close, but the most important thing is that the thoughts – and perhaps the talks – of treatment are beginning, which means the road to recovery could begin soon too.   Treatment is where it all begins.
We have three different alcohol addiction treatment options that can be customized to fit an addict's current situation.
Residential Alcohol Treatment Program
Of all the treatments offered at Asheville Recovery Center, a residential treatment program is the most effective in helping alcohol addicts get freedom from alcohol abuse and finally get sober. When paired with your commitment to beat alcohol addiction, this program has the highest success rate.
The residential addiction treatment program is beneficial primarily because:
It Allows Streamlined Focus
There is no outside distraction to keep the addict from meeting their goal. Gone are the stores and restaurants that were previously at their disposal and this new, temporary home won't have alcohol readily available like the addict's current home may have. The temptations for a drink are non-existent.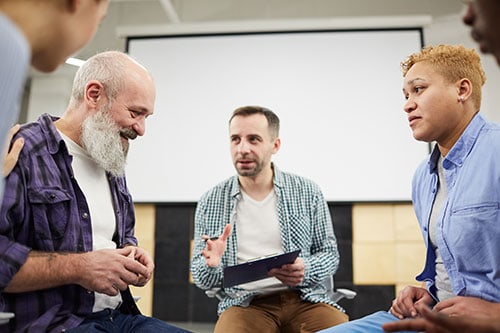 The Care is 24-7
We are here to support the addicts in our treatment program around the clock.  There isn't a team at home help to help manage an alcohol addiction like the team at Asheville Recovery Center.  The first few days of sobriety are often the most challenging, and we'll have a variety of qualified professionals on-site and available to help at any given moment.
The Program is Structured
A set routine is the standard operating procedure for most treatment facilities, as it creates a sense of security in knowing what to expect next.  We do have structured days, but also offer holistic addiction treatment opportunities to focus on other areas of health and wellness while our addicts are on the road to recovery.
Methods Used During Residential Treatment
There are several addiction treatment methods used for alcohol treatment.  We'll find which of the below options work best for each of our clients following medical detox. It is imperative that detox is completed prior to beginning treatment of any kind, so we'll provide our clients with a partner organization that offers this service.  Detoxing prior to treatment will ensure that the individual doesn't experience withdrawal symptoms, so the focus can be on getting better using the following methods:
Individual and Group Therapy
Both therapies have specific benefits as they relate to alcohol addiction. Addressing traumatic situations, negative habits, and cognitive thinking is key, along with several other successful techniques backed by advances in mental health and addictions treatment. This is when most powerful underlying issues are typically revealed, and specific measures can be taken to ensure mental and emotional health and healing.
Group sessions differ from individual sessions because it can help an addict relax and not be ashamed of their addiction.  Being amongst other like individuals, even if the all addicts have in common is the addiction itself, can serve as comfort for addicts to know they are not alone in their struggles.
Substance Use and Mental Health
Often, individuals who suffer from addiction also suffer from some other kind of mental illness.  The time spent at the rehab center will address and diagnose any other underlying mental health issues.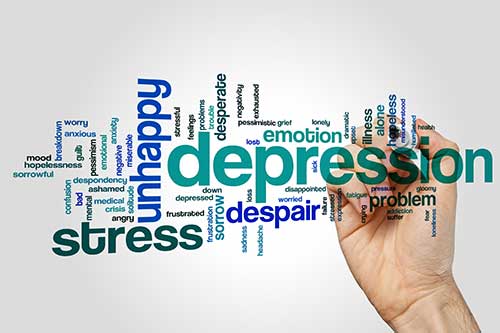 Family Counseling
Because alcohol addiction most likely affects family members, it is important that the families take part in the healing process.  Our clinical director specializes in family therapy and will help facilitate communication throughout the recovery process and will provide effective tools in how to communicate once treatment concludes.
Holistic Therapy
Our techniques have proven successful in the rehabilitation of all addictions, but we also realize the importance of considering alternative therapies that can support the recovery process.  Our clients will have the opportunity to explore, yoga/meditation, and chiropractic sessions and many others to see if these alternative therapies have a positive impact on the rehabilitation and recovery process.
Other Successful Alcohol Treatment Options
While the Residential Treatment Program has the highest success rate here at Asheville Recovery Center and we highly recommend this option, we do realize that it may not be the best solution for all of our clients.  For this reason, we offer other recovery methods that have also proven successful.
Partial Hospitalization Treatment
Partial Hospitalization Treatment, commonly referred to as PHP, allows the client to spend the daytime hours in treatment while still living at home. This is often the go-to transitional treatment following the residential treatment program.  It is best utilized in this manner, however, no matter when it is implemented into the recovery program, the methods of treatment are still the same:
Group and Individual Therapies
Twelve-Step Facilitation
Holistic Therapy Options
If a client decides that this program best fits their lifestyle, the staff at Asheville Recovery Center will create a customized plan that works best for that person and caters to their specific needs.  They will receive peer to peer support along with the guidance and support of supervisory behavioral technicians as healing from alcohol addiction begins.
Intensive Outpatient Treatment
As the residential and/or partial hospitalization treatments come to close, at Asheville Recovery Center, we then transition you to Intensive Outpatient Treatment.  This is a part-time program that allows more freedom for school, work or other healthy commitments that will support a life of sobriety.
The small group of peers – that we keep at no more than 45 individuals – ensures an effective client-to-staff ratio to meet the needs of each group member. This continued clinical support allows for both individual and group therapy as well as medical staff support for other treatment methods that were available in the Residential Treatment or Partial Hospitalization Treatment Programs. The flexibility that comes along with this program allows for the rebuilding of life skills and a productive, independent lifestyle while still supporting the needs of a recovering alcohol addict.
Is Alcohol Treatment The Right Choice?
No one can force an addict to go to treatment for alcoholism.  Only the alcoholic can make the decision to explore the alcohol treatment center available and decide if they really want to take control of the disease of addiction.  It isn't easy.  The addict is suffering, and friends and family are suffering.  However, there is hope in knowing that there is a highly trained dedicated team that will be with the addict as they embark on the lifelong commitment to sobriety.
Is alcohol treatment the way to go?  Of course it is, but the addict must make the call to accept the support we're providing.  Once the treatment ends, we're still with there, providing support when needed and even Relapse Prevention Services if needed.
When a client of ours reaches out, we'll be there no matter what, guaranteed.
Call Our Alcohol Treatment Center in Asheville Today
We're here.  We can be reached anytime, day or night. Your contact with us will remain 100% confidential.  You can call us or simply fill out this contact form, and one of our experienced addiction specialists will reach out to you.
An addict should never feel left to battle their alcohol addiction alone. The beginning of a fulfilling life free from alcohol abuse starts with a simple step to reach out to the right alcohol treatment center.  We are here for you.  Call us today to get started.  Sobriety is waiting, so let's get there, together.