History of Xanax
Xanax is the most commonly prescribed benzodiazepine, a class of psychoactive drugs. Unlike opioids which are primarily used for pain relief, benzodiazepines are used as sedatives to combat disorders in patients such as anxiety, panic disorder, and insomnia. The first benzodiazepine, Librium, was synthesized in 1955 by American chemist Leo Sternbach and introduced to American medicine in 1960. Benzodiazepines were quickly praised within the medical community for their effectiveness and, by the late 1970s, were the most prescribed medications globally. Due to high demand, a new benzodiazepine, Alprazolam, or more commonly known by its brand name, Xanax, was approved for use in the United States in 1981. Shortly after this debut, concern over benzodiazepine dependence arose among physicians. Today, nonbenzodiazepines may be prescribed as an alternative but benzodiazepine use and abuse, especially regarding Xanax, remain prevalent. Between 1996 and 2013, the number of benzodiazepine prescriptions increased by 67%, going from 1.8 million to 13.5 million active prescriptions. According to the National Institute on Drug Abuse, there were over 20 million active Xanax prescriptions in the United States in 2018 alone.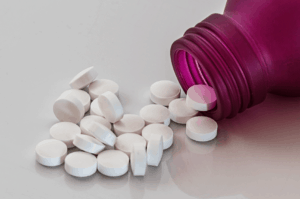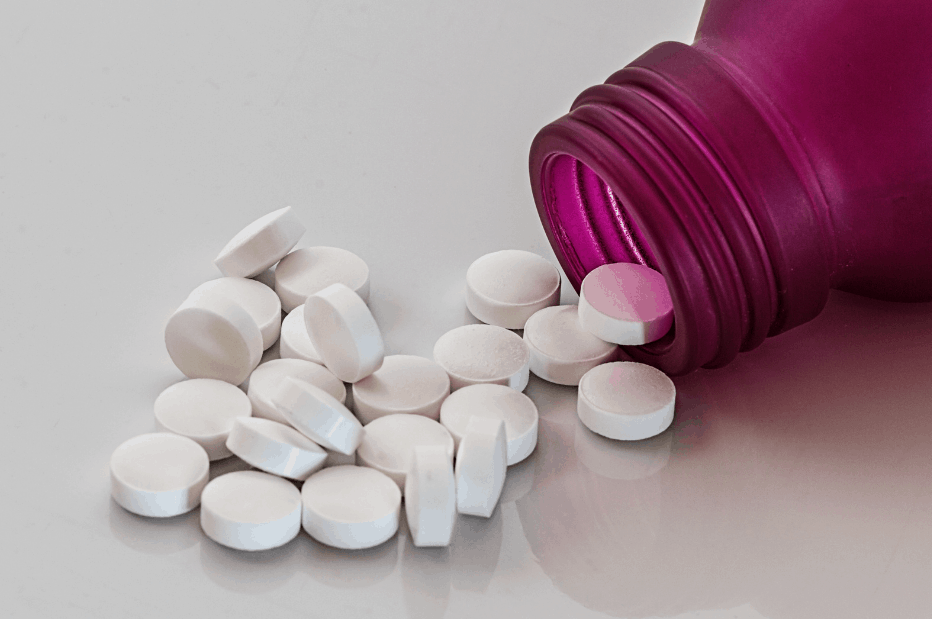 The Xanax High
Xanax is typically taken orally but can also be injected, smoked, or snorted. Xanax does not generate a high if taken as directed; However, if abused or unprescribed, Xanax produces a high in which the user experiences:
Depressed breathing
Loss of balance
Dizziness
Depressed heart rate
Confusion
Impaired coordination
Difficulty speaking
Muscle weakness
Side Effects of Xanax Abuse
Long-term Xanax abuse can cause lasting effects and irreversible damage. Such side effects include:
Severe depression
Uncontrolled muscle movements
Risk of developing Alzheimer's Disease
Withdrawal seizures
Suicidal thoughts
Unconsciousness
Coma
Death
Xanax Use in the United States
Xanax continues to be one of the most prescribed medications in the United States. When appropriately prescribed, it remedies anxiety, panic disorder, insomnia, and other ailments in patients. Despite its many benefits, abuse and dependence are common with Xanax users, both prescribed and unprescribed. Fatal overdoses from benzodiazepines aren't as common but there remains a strong correlation between benzodiazepines and opioid-related deaths. According to the National Institute on Drug Abuse, 23% of people who died from an opioid overdose in 2015 also tested positive for the presence of benzodiazepines. A recent study in North Carolina found that overdose death rates were 10 times higher among individuals who consumed both opioid and benzodiazepine medications compared to individuals who only consumed opioids. The graph below displays this correlation in the United States.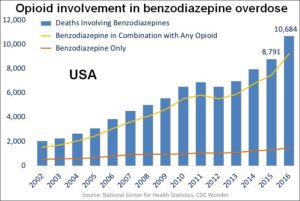 Xanax Addiction Treatment
Xanax is highly addictive and life-threatening when abused; therefore, it is extremely important to seek help immediately if you or a loved one is struggling with this addiction. At Asheville Recovery Center, treatment specialists utilize a 12-step program and practice holistic rehabilitation.
Services at the center include:
Partial Hospitalization Program – At Asheville Recovery Center we offer a partial hospitalization program for clients who need post-residential treatment as well as for clients who need primary treatment but are unable to enroll in inpatient programs. Our PHP track offers a variety of therapeutic services and benefits to individuals in early recovery from substance addiction. Our day program is full-time, offering all of the clinical hours provided in residential treatment (from 9 am to 5 pm) with the benefit of allowing clients to return home to a structured sober living environment at night. This allows individuals to build a community of peers and practice life skills, such as cooking, cleaning, and self-care, while still participating in immersive and intensive clinical addiction and trauma treatment.
Outpatient Rehabilitation – During intensive outpatient treatment, clients live at home or in a sober living residence which can help keep them accountable for their recovery commitment. Our staff coordinates with local, reputable sober living homes to ensure that our clients are living in a safe place and that their needs are being met, even when they are not at clinical sessions. During this time, clients are also encouraged to become involved in local twelve-step fellowships, to find sponsors, and to begin working the steps of recovery through participation in these groups. IOP is a place where clients can process their experiences in twelve-step fellowships and support one another in those individual journeys.
Addiction is difficult to overcome alone. If you feel that you or a loved one is struggling with Xanax abuse, our specialists are on standby and ready to help. Call (828)383-0784 and speak with an addiction expert today.