Though COVID-19 restrictions in the Southeast are becoming less stringent, there are still risks associated with the pandemic that are particularly challenging for those with substance use disorder, those in addiction treatment, and those in addiction recovery.
Most states put quarantine orders into place mid to late March, and what followed touched every individual in various ways. Many experienced job loss, social isolation from family members and friends, disconnection from activities that maintain or improve quality of life, and suddenly having to school or care for their children at home.
Alcohol and drug use has increased at an exorbitant rate as people try their best to cope with fear, stress, loneliness, hopelessness, despair, and even boredom stemming from such an abrupt and seemingly never-ending abnormal life. Individuals who managed substance use well before the pandemic have increased their consumption or some in recovery have relapsed.
Addiction treatment is very much a social process; attending community meetings, sharing successes and processing challenges, therapy appointments, and seeing doctors for those who choose medication-assisted treatment.
At best, all of these activities have become two-dimensional through a personal laptop and webcam, and that's if those struggling with addiction even own the needed electronics and have high-speed internet for real-time interaction with the people that support them.
There is no doubt about the growing challenges of substance use treatment and recovery during the COVID-19 pandemic. Americans are now eight months into this stale way of life, and research and community agencies are now releasing studies that verify the increasing prevalence of substance use disorder and just how difficult coping with stress, anxiety, and substance use during COVID-19 truly is.
If you are having difficulties coping with the stress of social isolation during the COVID-19 pandemic, treatment for addiction is just a phone call away. Contact Asheville Recovery Center at (828) 518-6996 to find out how we can help.
Social Isolation, Mental Health, and Substance Use Disorder
When an individual struggles with substance use, the chances of surviving COVID-19 social isolation drop significantly. Social isolation due to COVID-19 affects mental health in a number of ways. Loneliness and missing social gatherings, even if just six people, contribute to increased symptoms of depression and anxiety.
Many who struggle with mental illness also struggle with substance use. In a time when isolation is mandated or voluntary and when substance use, mental health, and infection disease continue to be stigmatized, it's important that we all are open to honest and candid conversations surrounding these three public health issues. In the following video, Dr. Kevin Gilliland, Addiction Specialist, provides advice.
Coping with stress during the COVID-19 pandemic leaves individuals in isolation wondering how to get help with mental health. Not knowing how to access treatment for depression and anxiety may lead to beginning or increasing substance use as a coping mechanism. People are most certainly more depressed.
A recent survey conducted by TenEleven, a software company that developed electronic Clinical Record (eCR™) to manage a variety of behavioral health services, shows that 45 percent of Americans feel the isolation caused by the pandemic is having a negative effect on their mental health. Concurrently, clinical records also showed that suspected overdoses rose by 24 percent from March to May.
The Center for Disease Control and Prevention (CDC) releases a weekly Morbidity and Mortality Report. In mid-August, the report published results from a three-part longitudinal survey on mental health, substance use, and suicidal ideation during the COVID-19 pandemic. The final survey of the series, administered June 24 to June 30, had nearly 5,500 responses. Overall, 40 percent of respondents reported experiencing at least one detrimental mental or behavioral health condition.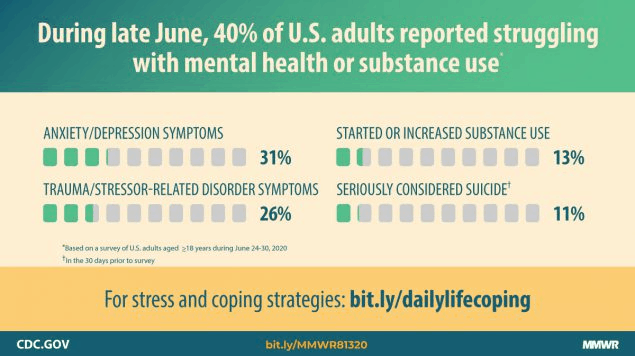 Even more alarming were the demographics of those who reported serious thoughts of suicide:
25 percent of young adults aged 18 to 24 years

34 percent of those of racial or ethnic minority groups

31 percent of those who are unpaid caregivers of family members

22 percent of those who are essential workers
According to the CDC, COVID-19 isolation has caused 13 percent more Americans to start or increase substance; therefore, access to such substances used to cope with isolation should be under question.
Access to Alcohol during the COVID-19 Pandemic
Alcohol has been known for decades to be one of the most dangerous substances of choice when considering the long-term effects and how incredibly easy it is to access it.
Though most states closed bars and clubs, liquor stores were considered essential and remained open. Individuals who feared infection by leaving their homes and entering places of essential businesses like grocery stores and liquor stores found other ways to acquire alcohol.
During a time when the economy was tanking, many government leaders across the country saw an opportunity to try to keep business booming for the alcohol industry via relaxed laws and eCommerce.
The New York State Liquor Authority and the governor of Florida both flexed laws to enable bars, restaurants, and distilleries to sell products at off-site locations or allowed bars and restaurants to deliver alcohol to doorsteps.
With few pre-pandemic restrictions on wine and beer, home alcohol delivery services such as Drizly (which can also deliver liquor) and Wine Insider, sales more than tripled when compared to the same time period in 2019. Daily sales volumes of such companies during the pandemic are about the same as single-day sales volumes for Black Friday, Christmas, and New Year's Eve. The number of new Wine Insider customers increased eightfold.
As far as the entire alcohol industry (not including bars and restaurants), sales have surged by 24 percent during the pandemic according to Nielsen's market data.
It's crystal clear that alcohol use during the pandemic has increased exponentially based solely on market data.
What about other non-prescribed and/or illegal substances such as amphetamines, benzodiazepines, cocaine, and opiates?
Substance Use during the COVID-19 Pandemic
The Journal of Population Health Management released a study in early October that examines substance use other than alcohol during the pandemic.
Reviewing nearly 900,000 lab results of drug tests from all 50 states, the researchers compared drug test positivity rates for two periods of time: January 1 to March 14 and March 15 to May 16. The results are incredibly alarming:
Overall, positivity rates for any non-prescribed/illegal opioids increased 10 percent

Non-prescribed fentanyl positivity rates increased 35 percent

Heroin positivity rates increased 44 percent
There was also a surge in poly-drug test results. Non-prescribed fentanyl positivity rates along with other substances increased significantly.
Non-prescribed fentanyl + amphetamines increased 89 percent

Non-prescribed fentanyl + benzodiazepines increased 48 percent

Non-prescribed fentanyl + cocaine increased 34 percent

Non-prescribed fentanyl + other opiates combined increased 39 percent
These daunting comparisons suggest that those suspected of substance misuse or those in addiction treatment likely have difficulty managing stress during isolation as well as accessing treatment services.
Addiction Treatment and Recovery during COVID-19
Because addiction treatment services are built around social interaction, clinical observation, one-on-one therapy, and sometimes medication management, isolation is the enemy of anyone in addiction treatment and recovery.
There have been some modifications addiction treatment centers have been able to manage such as telemedicine, social distancing, holding meetings outside, but it just doesn't feel the same to most people on their socially supported journey.
The Addiction Policy Forum published a research report on a pilot study in early June. Utilizing their wide network of over 1,500 patients, family members, and survivors, a web-based survey representing all but three states was administered between April 27 and May 8. Here are the findings:
40 to 48 percent reported fear of becoming infected, spreading the virus and/or social isolation

Top emotional distresses were worry (62%), sadness (51%), fear (51%), and loneliness (42%)

20 percent reported increased substance use since the pandemic began

34 percent reported overall disruptions in support services

12 percent reported an inability to access in-person support groups, syringe or naloxone

87 percent of those that had a disruption in services reported significant emotional distress
Open-ended written responses shed more light on the challenges faced by those in addiction treatment and recovery.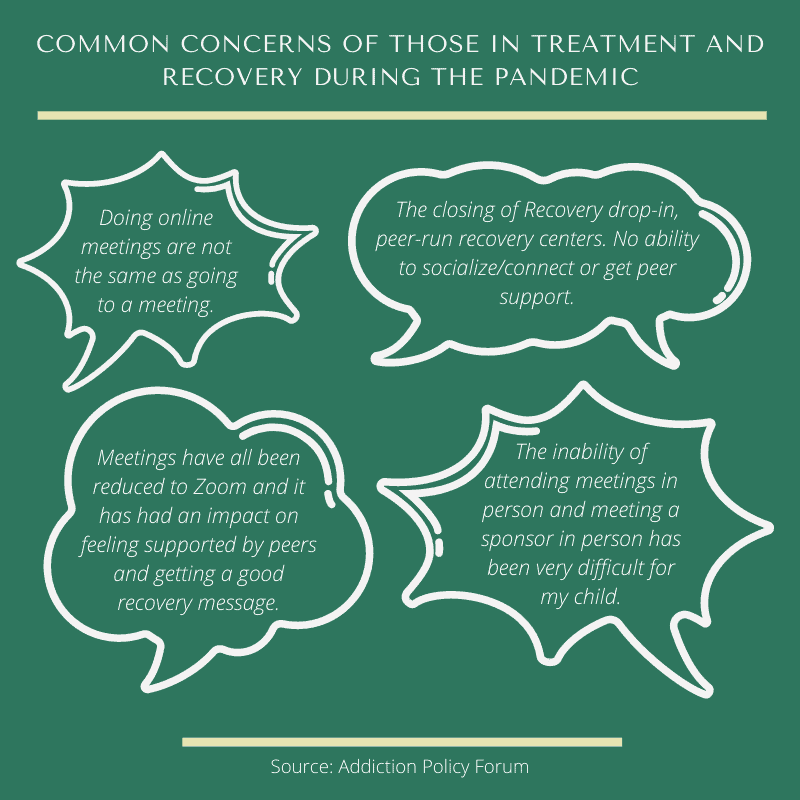 With the challenges of accessing needed services during a pandemic, the chances of relapse are greater. Studies have shown that avoiding social isolation and having continued emotional support are both protective factors for those facing the challenges of addiction. Thirty-one percent of respondents in one study cited loneliness as the reason for their relapse.
If you are experiencing loneliness during the pandemic and are having trouble accessing addiction treatment services while in recovery, be sure to have a relapse prevention plan in place for the duration of the pandemic. Contact Asheville Recovery Center at (828) 518-6996 to learn more and get a free phone consultation.
Overdoses and Deaths during the COVID-19 Pandemic
Overdoses and overdose deaths have been on the rise since March of this year. Rural areas seem to be the hardest hit due to even more limited access to treatment services. Some states as well as individual counties have reported an increase in overdose deaths compared to the same time period in 2019.
9 percent increase in Washington

19 percent increase in Connecticut

28 percent increase in Colorado

30 percent increase in Kentucky
Emergency rooms in Rockingham county here in NC have recorded a 46 percent increase in overdose-related admission.
On a national level, over 3,000 agencies in various counties in 49 states participate in the Overdose Detection Mapping Application Program (ODMAP) which tracks police and emergency calls. Collectively, 62 percent of counties that participate in ODMAP reported an increase in suspected overdoses.
According to calls tracked between March 18 and May 19, there has been a national increase of 18 percent in suspected overdoses. Go to the ODMAP site to see the overdose and covid-19 map.
Substance Use Awareness and Education during COVID-19
More and more state and government leaders, celebrities, and musicians have been open about how addiction affected their lives or the lives of friends and loved ones. The more frank conversations we have about social isolation, mental health, and substance use, the stronger the message will be to anyone and everyone to reach out (virtually) and connect those in need with services in their communities. It is important to prioritize mental and emotional health. With quality rehabs in North Carolina, there's no better time than now to reach out and ask for help. Contact us at Asheville Recover Center today.