There are many alcohol and drug addiction treatment methods in use today, but which methods are considered effective addiction treatment? 
With so many addiction treatment options, that's for you and/or your family to decide.
Types of Addiction Treatment
The National Institute on Drug Abuse defines these more common types of addiction treatment services:
Long-term residential addiction treatment (6 to 12 months)

Short-term residential addiction treatment (3 to 6 weeks)

Addiction treatment outpatient services (structured around your work and family schedule)

Jail diversion (centers partner with the courts)
Such programs can include any or all of the following treatment methods:
Detox

Management of withdrawal symptoms

Medication-assisted treatment

12-step facilitation

Evaluation of and treatment for depression and anxiety

Individualized, group, and family counseling

Therapeutic communities

Aftercare or long-term follow-up to prevent relapse
The US Food and Drug Administration (FDA) defines substance abuse as: 
The intentional, non-therapeutic use of a product or substance to achieve a desired psychological or physiological effect.
With that said, an individual can, in fact, abuse any substance; consequently, most treatment centers can address single or multi substance addictions. Such substances are:
Alcohol

Opioids (natural and synthetic)

Prescription drugs

Marijuana
But the bigger question is, "What trauma led to the addiction?"
With a combination of addiction and trauma treatment, Asheville Recovery Center can help you on your individual path to recovery.
At Asheville Recovery Center, one of the top drug addiction treatment centers in Western North Carolina, our holistic addiction treatment approach is backed by medical advances in mental health and addiction and how they intertwine. 
Addiction Treatment at Asheville Recovery Center
We treat the trauma, not the addiction.
Adapted from the American Psychological Association definition, trauma is a single or culminating response to adverse events that include unpredictable emotions, flashbacks, strained relationships, or physical symptoms such as headaches or nausea.
Most individuals who have experienced complex or long-term trauma would describe it as a spiraling vortex of emotional, mental, and physical strain that negatively impacts their life and the lives of those around them.
A single trauma or multiple traumas often lead to the development of mental health disorders such as depression, anxiety, and bipolar disorder.
When trauma goes untreated, it can lead to self-medication with a single substance or multiple substances with the initial goal of relieving symptoms.
The 2018 National Survey of Drug Use and Health published by the Substance Abuse and Mental Health Services Administration (SAMHSA) sheds light on the connection between mental health and substance abuse. As shown in the diagram below, Of the 19.3 million adults that abused substances in 2018, 9.2 million had a mental health diagnosis and substance abuse disorder.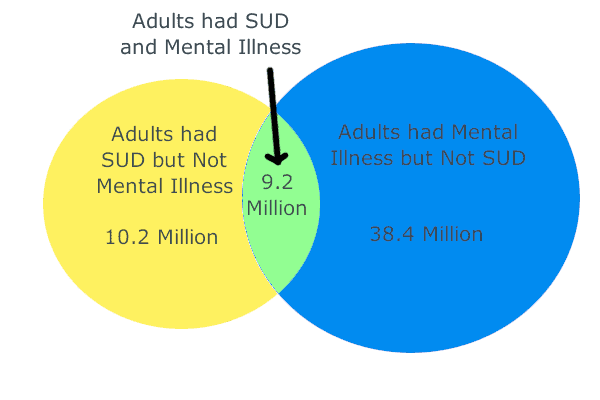 In 2018, nearly 48 percent of adults with a substance abuse disorder also had a mental health disorder. 
Unfortunately, in most cases, biological and chemical forces take the lead and dependency upon chosen substances develops a harmful, and often cyclical, outcome.
This is where Asheville Recovery Center can step in.
We work to determine any psychological issues that may hold an individual back from receiving the healing they require to live a fulfilling life of resiliency and sobriety. Tackling underlying trauma allows room for individuals to be motivated on their path to recovery. 
The Center for Health Care Strategies highlights a patient comment in their Issue Brief titled, "Key Ingredients for Successful Trauma-Informed Care Implementation:"
A non-trauma-informed system punishes and blames your adult actions and asks, "what's wrong with you?" A trauma-informed program will hold you accountable for your adult actions, but give you space and time to process "what happened to you?" without adding guilt or more trauma.
Our clinicians, physicians, psychiatrists, and therapists all work closely with individuals and family members through holistic case management, medication management, and a socially supportive environment.
12 Step Approach to Addiction Treatment at Asheville Recovery Center
Asheville Recovery Center utilizes a 12 step approach to addiction treatment. This approach, along with useful holistic and traditional therapy methods, helps individuals to understand more about their behaviors, health, and social support community.
With the valuable support of others, the 12 step approach facilitates the notion that an individual is not alone throughout the healing process.
Additionally, our 12 step approach allows individuals to examine their own lives and how their trauma and addiction has affected their well-being and the well-being of those around them. This reflection induces a changed lifestyle so there is a higher chance of long-term recovery success.
What makes Asheville Recovery Center unique?
We have a true passion for helping people with an addiction live confidently and sober, and that includes trauma and addiction treatment services we know to work. 
Our facility is funded and run by people who are in recovery themselves, so we understand what benefits individuals when it comes to trauma and addiction treatment.
We offer a loving and supportive environment while also holding individuals accountable throughout treatment so that they are set up for success outside of our facility walls. After all, trauma and addiction treatment is meant to help individuals get better and live more fulfilling lives. 
What to Expect at Asheville Recovery Center
Once an individual has made the decision to join the Asheville Recovery Center family, they will naturally have many questions. We want everyone to feel fully prepared and secure in what to expect when seeking treatment through us. The treatment process can be divided into four areas described below. 
Assessment
By assessing an individual, we are able to provide unique care tailored to their needs. During this initial step, the client will disclose: 
Medication history 
Family history
Medical issues
Prior hospitalization
Substance issue/usage
Mental health diagnosis 
Past treatment history
Personal relationships
Employment
Whether or not detox is needed
Intake Procedure 
Upon completion of the assessment and after medical detox (if needed), a specialist at our clinic location will discuss the full details of residential treatment at the lodge. They will also list what items can be brought with you, including: 
Appropriate clothing for the weather, gym, hiking, and outdoor activities

Toiletries such as toothbrushes, toothpaste, shampoo, etc.
Anything that would make your room feel more like home

MP3 players, Kindles, or Fitbits are approved as long as they do not have wi-fi capabilities.
We provide washers and dryers as well and laundry detergent, paper towels, bedding, toilet paper, and bath towels, but feel free to bring your own bedding or bath towels if you would like.
Therapy
At Asheville Recovery Center, we believe that treating addiction deserves more than a  "one-size-fits-all" solution. That's why we have implemented various therapeutic techniques, aimed at serving each client's individual needs. These therapies include: 
Rapid resolution therapy 
Cognitive behavioral therapy 
Individual therapy 
Group therapy
While staying at the lodge, clients feel supported by a sense of community and a structured treatment environment. A typical week at the lodge looks like this: 
Monday: Clinical Day 9 AM-3 PM
Tuesday: Clinical Day 9 AM-3 PM
Wednesday: Clinical Day 9 AM-3 PM followed by an alumni speaker and bonfire
Thursday: Clinical Day 9 AM-3 PM followed by hiking (weather permitting) 
Friday: Clinical Day 9 AM-3 PM
Saturday: Half clinical day followed by a group activity
Sunday: Free day 
The lodge location offers an on-site gym area, yoga, and nutritional help if needed. 
Aftercare:  
While specialists at Asheville Recovery Center are invested in client recovery, they are also invested in maintaining recovery.  Outpatient treatment offers a transition back into society with minimal hours spent in treatment therapies during the week. Upon enrollment, we help to determine appropriate post-treatment options so that the client can feel confident in maintaining their sobriety.