History of Morphine 
Morphine is a byproduct of opium, a natural substance found in poppy seeds. The drug was first synthesized in 1804 by German chemist Friedrich Serturner who named the substance after Morpheus, the Greek god of dreams, due to its sedative properties. Merck, a German pharmaceutical company, began commercial production of morphine in 1827 and promoted it as an effective pain reliever. By 1874, heroin was derived from morphine and was twice as potent which decreased morphine production considerably. Heroin quickly claimed morphine's number one spot as the most commonly abused narcotic in the world. In 1914, the drug was classified as a controlled substance, making possession of morphine without a valid prescription a criminal offense in the United States. There is still a very strong presence of morphine in the medical field today. In 2017 alone, there were over 4 million active morphine prescriptions within the U.S. According to the International Narcotics Control Board, an average of 500 tons of morphine are produced each year.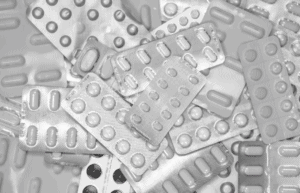 The Morphine High
Morphine can be taken orally, snorted, smoked, and injected. It typically takes effect within 20-60 minutes and lasts from 3-7 hours. Morphine generates a high in which the user experiences: 
Shallow breathing 
Slurred speech 
Impaired motor function
Extreme fatigue 
Euphoria
Sense of calm
Pain relief
Side Effects of Morphine Abuse 
Long-term Morphine abuse can cause lasting effects and irreversible damage. Such side effects include:
Cardiac arrest
Respiratory failure 
Seizures 
Hallucinations 
Coma 
Liver failure 
Death 
Morphine Use in the United States 
According to the Center for Disease Control and Prevention, 70% of morphine is used to produce other opioids such as hydromorphone and heroin. The graph below depicts overdose death rates involving both morphine and its offshoots.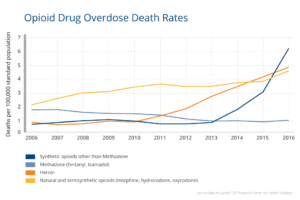 Morphine Addiction Treatment
Morphine is highly addictive and life-threatening when abused; therefore, it is extremely important to seek help immediately if you or a loved one is struggling with this addiction. At Asheville Recovery Center, treatment specialists utilize a 12-step program and practice holistic rehabilitation. 
Services at the center include:
Partial Hospitalization Program – At Asheville Recovery Center we offer a partial hospitalization program for clients who need post-residential treatment as well as for clients who need primary treatment but are unable to enroll in inpatient programs. Our PHP track offers a variety of therapeutic services and benefits to individuals in early recovery from substance addiction. Our day program is full-time, offering all of the clinical hours provided in residential treatment (from 9 am to 5 pm) with the benefit of allowing clients to return home to a structured sober living environment at night. This gives individuals the opportunity to build a community of peers and practice life skills, such as cooking, cleaning, and self-care, while still participating in immersive and intensive clinical addiction and trauma treatment.
Outpatient Rehabilitation – During intensive outpatient treatment, clients live at home or in a sober living residence which can help keep them accountable for their recovery commitment. Our staff coordinates with local, reputable sober living homes to ensure that our clients are living in a safe place and that their needs are being met, even when they are not at clinical sessions. During this time, clients are also encouraged to become involved in local twelve-step fellowships, to find sponsors, and to begin working the steps of recovery through participation in these groups. IOP is a place where clients can process their experiences in twelve-step fellowships and support one another in those individual journeys.
Addiction is difficult to overcome alone. If you feel that you or a loved one is struggling with morphine abuse, our specialists are on standby and ready to help. Call (828)383-0784 and speak with an addiction expert today.