History of LSD
Clinically known as Lysergic Acid Diethylamide, LSD was first synthesized in 1938 by Swiss chemist Albert Hofmann. The drug was developed with the intention of being a new respiratory and circulatory stimulant but, five years after its initial introduction into medicine, LSD's psychedelic properties were discovered. Throughout the 1950s, medical schools and universities used LSD in research due to its experimental ability to replicate mental illness. By the mid 1960s, LSD began to circulate within the public sphere and was soon referred to as "acid". Acid was praised for its enlightening and transcendental qualities and soon became a pillar of the hippie counterculture throughout the 1960s and 1970s as it was often used to enhance creativity. LSD's popularity has faded over the decades yet it still remains the most widely-used psychedelic drug in the world today.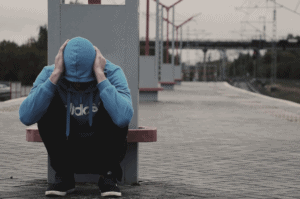 The LSD High
LSD is typically taken orally, but it can also be snorted, smoked, or injected (rare). It typically takes effect within 30-45 minutes of consumption and lasts from 6-12 hours. LSD produces a high in which the user experiences: 
Hallucinations 
Euphoria
Distorted perception of shapes and colors
Altered sounds
Anxiety
Rapid heart rate
Dilated pupils 
Side Effects of LSD Abuse 
Long-term LSD abuse can cause lasting effects and irreversible damage. Such side effects include:
Delusions
Psychosis
Paranoia 
Chronic perception disorder
Schizophrenia 
LSD Use in the United States 
While LSD is not physically addictive and overdose death rates are extremely rare, the drug  can be irreversibly, psychologically damaging. According to the study Hallucinogenic Drugs as Precipitants of Schizophrenia, LSD might play some precipitating role in the onset of schizophrenia, bringing this disorder on more quickly in those who are predisposed to the psychological disorder. There are other illicit drugs that have been connected to schizophrenia onset and, although LSD correlation remains low, the risk is still present.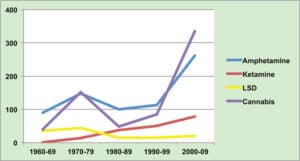 LSD Addiction Treatment
LSD is highly addictive and life-threatening when abused; therefore, it is extremely important to seek help immediately if you or a loved one is struggling with this addiction. At Asheville Recovery Center, treatment specialists utilize a 12-step program and practice holistic rehabilitation. 
Services at the center include:
Partial Hospitalization Program – At Asheville Recovery Center we offer a partial hospitalization program for clients who need post-residential treatment as well as for clients who need primary treatment but are unable to enroll in inpatient programs. Our PHP track offers a variety of therapeutic services and benefits to individuals in early recovery from substance addiction. Our day program is full-time, offering all of the clinical hours provided in residential treatment (from 9 am to 5 pm) with the benefit of allowing clients to return home to a structured sober living environment at night. This gives individuals the opportunity to build a community of peers and practice life skills, such as cooking, cleaning, and self-care, while still participating in immersive and intensive clinical addiction and trauma treatment.
Outpatient Rehabilitation – During intensive outpatient treatment, clients live at home or in a sober living residence which can help keep them accountable for their recovery commitment. Our staff coordinates with local, reputable sober living homes to ensure that our clients are living in a safe place and that their needs are being met, even when they are not at clinical sessions. During this time, clients are also encouraged to become involved in local twelve-step fellowships, to find sponsors, and to begin working the steps of recovery through participation in these groups. IOP is a place where clients can process their experiences in twelve-step fellowships and support one another in those individual journeys.
Addiction is difficult to overcome alone. If you feel that you or a loved one is struggling with LSD abuse, our specialists are on standby and ready to help. Call (828)383-0784 and speak with an addiction expert today.