History of Fentanyl
Fentanyl is relatively new compared to its highly addictive counterparts. Developed in 1956 by Belgian physician Paul Janssen, this synthetic opioid was accepted into the medical community as a component for anesthesia.  By 1968, fentanyl was approved for medical use in the United States and quickly gained popularity among medical professionals for its effectiveness in relieving chronic pain in patients. Knowledge of the drug's strength eventually spilled over into the public which led to its illicit sale and reproduction. Being 100 times stronger than morphine, fentanyl is the second most potent opioid in the world, and, according to the World Health Organization, one of the most deadly.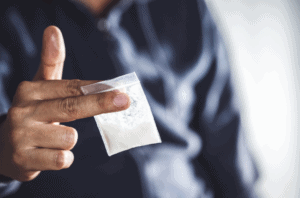 The Fentanyl High 
Fentanyl can be taken orally, smoked, snorted, injected, or applied topically. A user experiences an Intense, short-term high which side effects include: 
Temporary feeling of euphoria
Slowed breathing 
Drop in blood pressure
Nausea 
Pain relief
Dizziness
Excessive sweating 
Slurred speech
Constricted pupils
Diarrhea or constipation
Side Effects of Fentanyl Abuse
Long-term use of this drug can lead to medical complications, serious illness, and death. Such side effects include:
Damage to heart and lungs 
Kidney failure
Liver failure
Hallucinations
Chronic anxiety
Chronic depression
Seizures
Coma
Death
Fentanyl Use in the United States
 An opioid epidemic had been ravaging the U.S. Since the early 2010s and an alarmingly high percentage of overdose fatalities involve the synthetic opioid Fentanyl. According to the World Health Organization,  the number of people dying from opioid overdose increased by 120% between 2010 and 2018 in the United States, and two-thirds of opioid-related overdose deaths in 2018 involved synthetic opioids, including fentanyl. Fentanyl on its own can be fatal; however, a more sinister danger lies in illegal reproduction of the drug which is often used to 'cut' heroin. In cutting heroin, the manufacturer blends powdered fentanyl into heroin in order to produce it in larger quantities. Unaware of its composition, the user is likely to fatally miscalculate their dosage. According to the National Institute on Drug Abuse, the increase in deaths involving heroin is driven by the use of fentanyl. The graph below shows the increase in fentanyl-related deaths compared to others in the past five years.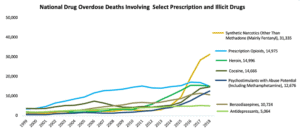 Fentanyl Addiction Treatment 
Fentanyl use is extremely addictive and oftentimes fatal; therefore, it is extremely important to seek help immediately if you or a loved one is struggling with this addiction. As one of many inpatient drug rehabs Asheville, NC has to offer, treatment specialists at Asheville Recovery Center utilize an effective 12-step program combined with the practice of holistic rehabilitation. 
Services at the center include: 
Partial Hospitalization Program – At Asheville Recovery Center we offer a partial hospitalization program for clients who need post-residential treatment as well as for clients who need primary treatment but are unable to enroll in inpatient programs. Our PHP track offers a variety of therapeutic services and benefits to individuals in early recovery from substance addiction. Our day program is full-time, offering all of the clinical hours provided in residential treatment (from 9 am to 5 pm) with the benefit of allowing clients to return home to a structured sober living environment at night. This gives individuals the opportunity to build a community of peers and practice life skills, such as cooking, cleaning, and self-care, while still participating in immersive and intensive clinical addiction and trauma treatment.
Outpatient Rehabilitation – During intensive outpatient treatment, clients live at home or in a sober living residence which can help keep them accountable for their recovery commitment. Our staff coordinates with local, reputable sober living homes to ensure that our clients are living in a safe place and that their needs are being met, even when they are not at clinical sessions. During this time, clients are also encouraged to become involved in local twelve-step fellowships, to find sponsors, and to begin working the steps of recovery through participation in these groups. IOP is a place where clients can process their experiences in twelve-step fellowships and support one another in those individual journeys.
Addiction is difficult to overcome alone. If you feel that you or a loved one is struggling with fentanyl abuse, our specialists are on standby and ready to help. Call (828)383-0784 and speak with an addiction expert today.