Throughout 2020, Covid-19 inflicted worldwide damage. The virus claimed the lives of 1,925,076 people in the year alone. While everyone scrambled to adjust to pandemic-era living, overdose deaths also skyrocketed. In fact, 2020 set a record for the largest single-year increase in overdose deaths ever recorded.
According to data collected by the Centers for Disease Control and Prevention, 2020 saw a 30% increase in drug overdose fatalities, killing approximately 93,000 Americans. As if 2020 hadn't already sealed its title as the worst year on record, it also saw the most opioid-related deaths, stimulant-related deaths, and fentanyl-related deaths ever reported in a year.
In examining the events of the past year, several causes for this surge in overdose deaths have been identified. To rectify the situation, the federal government has implemented temporary policies. Will this newfound recognition and political assistance be enough to reverse this fatal trend? We will have to wait and see.
How Covid-19 Fanned the Flames of the U.S. Drug Epidemic
To thoroughly understand the link between the Covid-19 pandemic and the U.S. drug epidemic, it is important to focus on the societal factors of the past year.
Isolation
The onslaught of Covid-19 brought about quarantining, social distancing, and service interruption. This strategy of self-isolating proved to be detrimental to individuals struggling with addiction. By confining themselves, many succumbed to severe depression which only exacerbated use.
Contrary to the popular recommendation, addicts were often using alone throughout 2020. In doing so, they made themselves much more vulnerable to the dangers of overdose. With no one present to revive them, many individuals overdosed and died.
The isolating nature of Covid-19 also interfered with the accessibility to vital services, such as professional addiction treatment. Due to physical distancing measures, many clinics and treatment facilities had to limit capacity and services offered. Left unassisted, many people struggling with a substance use disorder surrendered to this disease.
Stress
The global pandemic generated high levels of stress throughout the world in 2020. As people were actively dying from Covid-19, their loved ones weren't able to visit them. Unemployment rates soared and homes fell into foreclosure. This universal emotional state provoked the urge in some to use or return to drugs.
Interruption in Fentanyl Supply
The emergence of fentanyl into the illicit drug market is a known contributor to the 'third wave' of the opioid epidemic in the United States. Recently, this potent opioid has been increasingly present in not only heroin but stimulants such as cocaine and methamphetamine.
Once Covid-19 started spreading, countries throughout the world began closing their borders, with China being the first to do so. This temporarily ceased fentanyl imports into the U.S. from China, the primary manufacturer of this drug.
Once trade resumed, fentanyl was back on the streets of America. By this point, tolerance to the drug had significantly decreased and many individuals using fentanyl, or other drugs where fentanyl had been added, overdosed.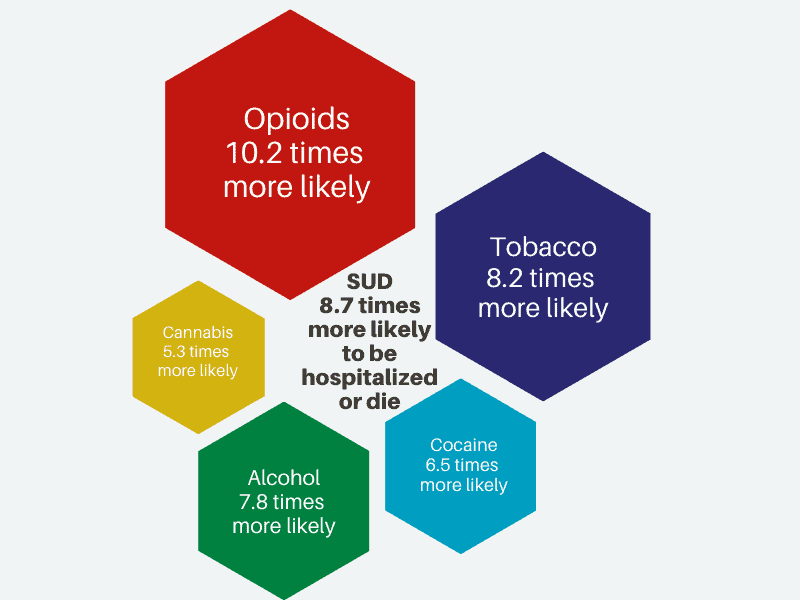 Ways the Government is Helping
In response to the record-setting year, government officials have implemented temporary policies so that those suffering from addiction have continued access to help. One such policy allows addiction medications, such as methadone, to be dispensed as a 14-28 day supply of take-home doses instead of requiring daily clinic visits.
A portion of federal funding within the stimulus bill has been allocated to addiction organizations and exchange programs for the purpose of purchasing needles, syringes, and rapid fentanyl test strips. Although it will take time for improvements to be seen, government officials are hopeful that these initiatives will reverse the trend.
Ways Asheville Recovery Center Can Help
The founders of Asheville Recovery Center, as well as many of our addiction therapists, have struggled with addiction and now enjoy life in recovery. They understand the struggles of addiction and how difficult it is to overcome on your own.
At Asheville Recovery Center, treatment specialists have developed a unique, hybrid model of treatment which combines a traditional 12-step program with holistic rehabilitation. A multitude of services, programs, and therapies are offered, including the Partial Hospitalization Program, Residential-style treatment, outpatient rehabilitation, and more.
If you feel that you or a loved one is struggling with substance abuse during this unprecedented time, our specialists are on standby and ready to help. Call (828) 518-6996 and speak with an addiction expert today so you can take the first step towards a rewarding life of sobriety.